ACP pays tribute to Queen Elizabeth II
---
Friday 9th September 2022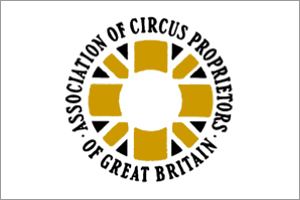 The Chairman and members of the Association of Circus proprietors join the wider circus community in sending our heartfelt condolences to the Royal Family, on the sad passing of our Queen Elizabeth II.
We are all grateful for the Queen's steadfast and long service to the nation. She has been an example to us all.
Our thoughts and prayers are with the new King Charles III and his Queen Consort, at this sad time, and we look forward to a new era of peace and prosperity.
God Save the King.
Gerry Cottle 1945 - 2021
---
Saturday 16th January 2021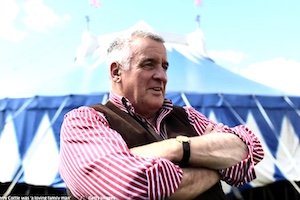 We are all totally shocked & saddened by the passing of our great friend & the undoubted greatest showman Gerry Cottle who passed away from Covid19 on the 13th January 2021.
His father was a stockbroker in leafy Surrey & Gerry went to the same school as John Major. He became entranced by the circus from the age of eight when he saw his first show at Earls Court, and in his early teens he completed the age old adage & ran away & joined the circus. This began a lifelong love affair with the greatest show on Earth.
He decided early on that rather than perform he wanted to be the boss: "I never wanted to be the greatest juggler or trapeze artiste – I wanted to be the big boss." he explained to BBC Desert Island Discs in 1984
He married the Circus Queen, Betty Fossett who came from the Fossett dynasty, the oldest Circus family in the UK. His first Circus had just 5 people in it including his business partner & life long friend Brian Austen. Together they expanded their show until it became the largest Circus in the UK, before they went their separate ways.  Gerry then formed Gerry Cottles Circus and  the TV spectacular Seaside Special were filmed from his Big Top every Saturday during the summer months, it was a modern variety show and had the slot that the X Factor has now, it was prime time TV & Gerry became a household name. It was often hosted by Radio 1 DJs, and included top comedians of the time including Ronnie Corbett & bands including Abba.
In the 80s Gerry created the UKs first ever non-animal Circus and went on to experiment with other more contemporary ideas such as the Rainbow Circus & a Rock n Roll Circus. He also took his Circus to Hong Kong & the Middle East. He did reunite with Brian Austen & they producing two huge Circuses in London at the same time, one with Jeremy Beadle as ringmaster at Wembley & one in Battersea Park.
The 1990s saw more experimentation with Gerry & Brian presenting The Moscow State Circus & Continental Circus Berlin before teaming up with rock singer Dr Haze to create the ground breaking Circus of Horrors. Shortly afterward's Gerry & Brian also toured the Chinese State Circus & recreated Cottle & Austen's Electric Circus. Three major Circuses touring the UK at the same time, making Gerry & Brian's company undoubtedly the largest Circus operation in the UK if not Europe.
In early 2003 he sold his half of the Circus equipment to Brian Austen & auctioned everything else including a human cannon ball and bought Wookey Hole Caves, he always had the Circus bug though & created a very successful Circus school in Wookey and went on to tour with Gerry Cottles WoW Circus & Gerry Cottles Magic Circus, in fact right up to his death on Wednesday 13th January 2021 he was planning more Circus adventures. If anyone ever had sawdust flowing through his veins it was Gerry Cottle.
Everyone at the Association of Circus Proprietors would like everyone to remember Gerry in a positive way, he was such an influential person that our lives won't be the same again. We were very proud to have Gerry as a prominent member of our Association for over 50 years. He leaves behind his loving family, Betty, Sarah, April, Polly, Gerry Jnr, 7 grand children & 2 great grand children.
GERRY COTTLE - THE GREATEST SHOWMAN. RIP. XXXX
Circus Big Tops get the green light to re-open again
---
Saturday 1st August 2020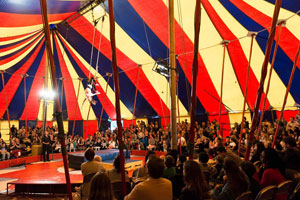 The ACP Circuses are delighted to get the green light to re-open their Big Tops this Summer. Literally 48 hours after direct action in London the DCMS were able to give permission for Big Tops shows, classed as outdoor events to resume their season from July 11th bringing a little relief to directors, artistes and staff who had been without income since March.
Tenting Circuses are allowed to open however with restrictive measures in place particularly social distancing, resulting in hugely reduced capacities it remains to be seen how this will be sustainable with some Circuses unable to open as it won't be financially viable.
We hope that members are able to continue in some sort of capacity and bring joy to the general public who have been starved of most live entertainment during the last few months.
ACP delivers letter to the Prime Minister
---
Wednesday 8th July 2020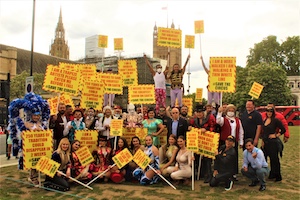 On Tuesday the Association of Circus Proprietors and it's members delivered a letter to the Prime Minister asking to be allowed to open again.
Click here to read the letter in full.
NELL GIFFORD 1973 - 2019
---
Monday 9th December 2019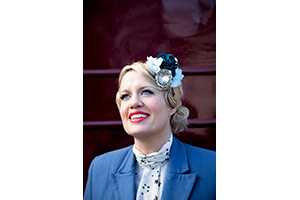 It is with broken hearts that we announce the death of Nell Gifford – the co-founder, driving force and the visionary behind Giffords Circus.
Her illness was well documented in the press, as she believed in transparency and openness. Nell was surrounded by family, both immediate and circus - left us on Sunday 8th December.
We know many tears will be falling as Nell touched so many hearts. Her vision for Giffords Circus was to bring happiness, imagination and enliven people's souls. Giffords Circus shall continue to do just that. Whilst the world is a dimmer place today, Nell will continue to live through the Circus.
In 2020 we will celebrate the 20th anniversary of the Circus. Nell wanted it to be the showstopper and it will be just that. Next year's production, The Hooley will celebrate the first 20 years, the next 20 years and Nell's incredible life. Nell built a circus to last. It is poised to grow and fulfill Nell's plans for the future.
Nell was a creative genius, a daughter, step-daughter, sister, friend, leader and mother. She leaves behind the next generation – her twins Cecil and Red – who are both part of the Giffords Circus DNA.
We love her. May she rest in peace. For any questions please contact:
Guy James (Finance Director) – 07837652969 Irene Molodtsov (Chairman) – 07887550388
Zippos Circus - supporting Children with Cancer
---
Wednesday 18th September 2019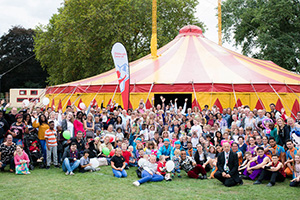 Every autumn Zippos Circus hosts a special circus performance for the charity Children with Cancer, a United Kingdom-based charity dedicated to raising money for research and providing care for children with cancer and their families. Zippos Circus has been involved with the Charity, and its predecessor the Paul O'Gorman Trust, for more than 25 years. In 2019 our performance will again be for those children suffering with cancer, and we expect around 300 young people at this very special show. Through the amazing generosity of those who sponsor the event, this wonderful event is expected to raise an in excess of £250,000.
Children with Cancer said: We wanted to say a HUGE thank you from everyone at Children with Cancer UK to you and to everyone at Zippos Circus for making Saturday so memorable for us! We had a truly fantastic time and have received some lovely messages from the parents. Here are a few of them: 'Thank you for a great day out. It bought a smile to our little boys face after a really sick few days. We had such a lovely day!' 'Thank you ever so much for a wonderful day that we thoroughly enjoyed as a family. It was great to see joy on my little girl's face.'
The photos from the day are now online and you can view them here.
For more information about Children with Cancer and their work, visit: www.childrenwithcancer.org.uk
Zippos Circus supports Rotary Club International
---
Wednesday 18th September 2019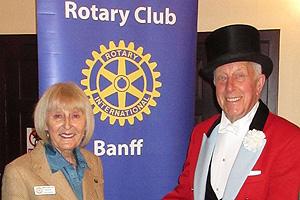 Zippos Circus invites Rotary Clubs in each town to come to the circus to raise funds for their chosen charities and causes. In this way, Clubs around England and Scotland have raised thousands of pounds with the help of Zippos Circus and through the generosity of their audiences. Rotary members believe in a shared responsibility to take action on our world's most persistent issues and the ACP initiated the idea to encourage all Member circuses to offer the opportunity to take collections following circus performances.
Rotary Club of Elgin - "Many thanks on behalf of Rotary Elgin for providing us with the opportunity to do some fundraising at the end of Zippos Circus' shows whilst you were in Elgin. The total sum we raised was £553.66 which was absolutely amazing."
Rotary Club of Twickenham - "I am writing on behalf of the Rotary Club of Twickenham upon Thames to thank Zippo's Circus for your invitation to make a collection for the Club at your Circus. I can truly say we had a bit of fun as well as collecting from your visitors to the Circus."
Rotary Club of Barkingside collected with the Rotary Club of Roding - "Thank you so much for allowing us to collect. Zippos' staff were absolutely wonderful especially the ringmaster. We divided the takings equally between the two clubs. We all wore tabards and people asked us about Rotary - which is always a good thing."
For information about Rotary: https://www.rotary.org
www.zippos.co.uk
Circus Berlin Brand New Show!
---
Wednesday 2nd August 2019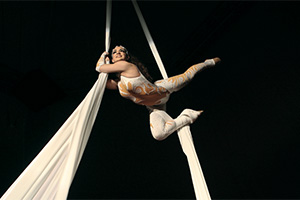 From the producers of the some of the world's finest Circuses comes a brand new show specially created for a exclusive UK tour. Continental Circus Berlin with an amalgamation of brilliant Circus acts, music & real youthful energy, incorporating fantastic performers from all over the world.
In an age where so much entertainment is unreal, made up of special effects, CGI and has a virtual reality, being pre-recorded, multi-tracked, digitally enhanced or in some other way electronically created - the sheer reality of a live show is a breath of fresh air and the feats and skills seen at Continental Circus Berlin are often so amazing that the Circus-goer literally can not believe their eyes.
www.circusberlin.co.uk
Circus Extreme European Tour
---
Wednesday 2nd August 2019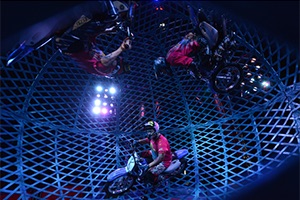 THIS YEAR a brand new death-defying and extreme circus is descending on the UK & Ireland as part of it's European tour. A one-of-a-kind performance that has been five years in the making and features some of the most talented & dare devil performers in the world
Merging modern and contemporary styles with extreme stunts and classic clown escapades, audiences will be amazed by the jam-packed Circus Extreme which features show-stopping performances that will have you on the edge of your seat, when not falling off it with laughter.
Featuring high tec lights & special effects this in undoutably the largest & most spectacular Circus touring the UK & Ireland.
www.circusextreme.co.uk
Circus of Horrors 25th Anniversary Tour
---
Wednesday 2nd August 2019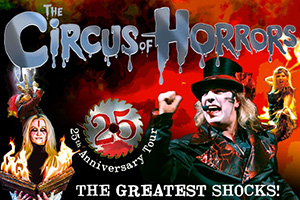 When the Circus of Horrors started in Glastonbury '95 people thought it would run for 25 weeks let alone 25 years, yet here we are a quarter of a century later still touring all over the World, still getting rave reviews & still getting loads of media coverage, the show has already this year performed for the 4th consecutive year at this years Download Festival & returned to the Glastonbury Festival.
As part of our 25th Anniversary tour we will be performing with The Damned at The London Palladium, a show promoted by Hammer House of Horrors and announced by Jonathan Ross, there will also be a torch light parade along Argyle St where we will try & set a new Guinness World Record for over 1040 Vampires in the same pace at the same time. This event sold out within 5 days of going on-sale & is sure to give us a lot of media attention for the 25th Anniversary.
www.circusofhorrors.co.uk